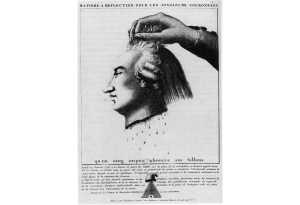 The French Revolution is one of those world historical events that will be forever studied, forever argued over. Today I gave you just a glimpse of its meaning and complexity.
If you want to explore a bit more, take a look at this very cool website on the French Revolution, Liberty, Equality, Fraternity: Exploring the French Revolution. The texts are very solid, based on real scholarship. And the imagery is excellent. Take a look at the discussion of the meaning of the Terror, for example. Or take a look at the art work of Jacques-Louis David, the great artist of the Revolution, such as his rendering of the Tennis Court Oath, or The Death of Marat (the victim of assassination). They also have a nice collection of songs from the French Revolution. Then, as now, songs were the source of potent symbolism ("Star-Spangled Banner," anyone?).
The Revolution was the harbinger of democratic politics, universal (male) suffrage, and political rights. It also revealed an obsession with conspiracies, a ruthless treatment of enemies, and nationalism. What was its significance? It all depends on your point of view. Some have seen in as the precursor of working-class revolution, others have seen it as a model for 20th c. totalitarianism.
Asked about the meaning of the French Revolution, Chou En-Lai, Mao's foreign minister, answered: "It is too soon to tell."
If you want to check out the YouTube clips I shared today, take a look at this clip from Jean Renoir, The Marseillaise (1938)
Or this one from the 1958 version of Tale of Two Cities (after the Dickens novel from 1859).