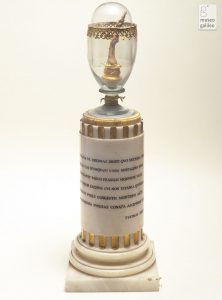 If you find yourself studying abroad in Tuscany in the near future, be sure to wander through the renovated (and newly named) Museo Galileo, the museum of science in Florence, Italy, where you can check out instruments and ideas of the scientific revolution. From the comfort of your own dorm room you can take a virtual visit here. Be sure to stop by to see Galileo's middle finger. Look for yourself at Galileo's telescope. Take a look at a short video on Galileo's trial.
To be sure, Galileo wasn't flawless. He discounted Kepler's theory that the planets move in elliptical orbits, for example. But his scientific work opened up new vistas that would be explored in the century to follow him.
Stephen Hawking wrote that "Galileo, perhaps more than any other person, was responsible for the birth of modern science." Well, modern science didn't follow from any one individual. It was the product of an entire revolution in thinking about the world, a revolution — as we have seen — that was soon applied to the political and the social world by men like Descartes, Hobbes, Locke.